MOTOTRAVEL TOURS
With this story we aim to give you an accurate view of what our tours look like. Keep in mind that it's not a day-to-day description. It serves to give you a sense of how we organize our tours and what kind of experiences you will encounter when you tour with us.

In the summer of 2018 we had the chance to take 6 Dutch guys with us on the road. We welcome the guys at the airport drop-off them off at the hotel in Tbilisi. There is some time to discover this lively, buzzling yet historic city. The day after we pick collect the gentlemen at the hotel and drive them to our garage. We start off with a briefing, dress up and get the bikes out. After leaving Tbilisi the riding fun already starts. The Gombori pass is the perfect way to get used to your motorcycle. Curvy roads all over bringing you to the top of the pass. A beautiful view unfolds, you can see as far as your eyes are able to. We have lunch in Telavi, on a terrace with a view on the mountains, many miles away over these peaks the infamous regions of Chechnya and Dagestan start. We ride on, now through the endless wine fields of Kakheti. Being in a country with an 8000 years old wine tradition we have to learn more about its viniculture. We learn how wine has been made in its traditional fashion for all this time. Back at the guesthouse we sample the wines. The Zandarashvili family with whom we are staying is no exception in this region, they also make their own wine and are keen on sharing it with their guests. A ''Supra'' follows, a traditional feast with toasts… a lot of toasts…

Later on during the tour we head towards the Caucasus Mountains, Mt Kazbeg is our goal. With 5037 Meters one of the highest mountains of Europe. We curl through the sloping valleys and over the mountains passes that give a view over the immenseness of the mountain chain. In the afternoon the guys like would like to do some off-roading. Luckily the region has an endless supply of dirt tracks, and mountain paths leading to deserted villages, amazing view points and more. On that afternoon and the morning after make some more off road trips, we ride to Juta, Tsdo and the Truso valley. The sound of the motorcycles is the only thing we hear between the majestic surroundings. A proper mountain Supra follows with our host, Archil Gigauri.

A few days later we ride on the endlessly winding roads of Racha. A region that is as undiscovered as it is beautiful and mythical. Out here the roads seem to be made for motorcyclists, it does not get better than this. We arrive at our guesthouse in Oni, one if the last villages on a real road (for those interested, will definitely discover the ones that are not connected to that road). We stay at the guesthouse of the Gugeshashvili family. Almost everything served comes from their own land, including wine, ''chacha'', smoked ham and a whole lot more. Among these extremely friendly family, the best food and the natural beauty surrounding us there we discover the wider region. Villages like Ghebi and other dirt tracks leads us to places where it seems the clock has stopped stopped ticking for a lot of years…
ADVENTURE TOUR
We welcome our 5 adventurous guests at the airport drop-off them off at the hotel in Tbilisi. There is some time to discover this lively, buzzling yet historic city. The day after we pick collect the gentlemen at the hotel and drive them to our garage. We start off with a briefing, dress up and get the bikes out.

On the second day the hard off-road starts. There is a small secret road connecting Lentekhi in Racha with Ushguli in Svaneti. A 70 KM long dirt track, leading you through waterfalls, dodging big rocks on the road and the purest of mountain scenery you can find in Georgia. We end up in Adishi, a small unknown village where ancient Svan customs and rituals are being performed like they have been for millennia. It is recommended to brag about the fact you have taken that road among the Svans. We eat and sleep in the middle of the historic village, the 10th and 11th century Svan towers and the animals roaming around freely. This is as close as you can get to time travelling.

At the end of the tour we travel to Tusheti. There is only one way going in and one way going out. The infamous Abano pass. This is truly an experience of a lifetime. The endless gravel road crosses right through the heart of the mountains. The road is only opened 4/5 months a year. During the rest of the year it is only reachable by helicopter. Just to paint a picture of the remoteness of this region.
LUXURY TOUR
We await 7 guests at the airport drop-off them off at the hotel in Tbilisi. Two days after we pick collect the gentlemen at the hotel and drive them to our garage. We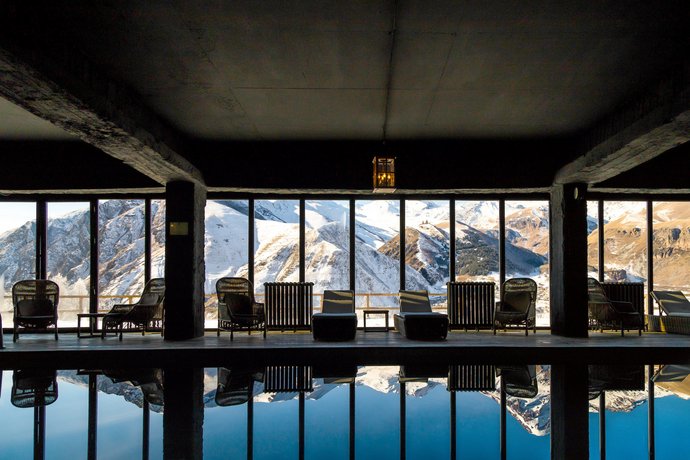 start off with a briefing, dress up and get the bikes out. The first ride starts. It brings us to wineries connected by a perfectly twisty road. Nature around changes as the miles proceed. After a hot day in Georgia's most famous wine region we freshen up by taking a fresh dive into a pool with a view over the endless fields and mountains.

We eat at a restaurant that carries the same name as the one of the best wine producers from the region. The best food combined with sublime wines. Just a start, because the rest of the week we continue in the same fashion.

Later on we head up north. If it gets chilly in Georgia (naturally not in the high season) your likely to find yourself curling up the Caucasus mountain range. Endless curvy roads take us up and down, a Valhalla for any motorcyclist. After the ride a sauna and spa await in a beautiful design hotel. The hotel itself its set in the middle of the mountains peaks and has a James Bond like vibe to it.
Guided Tours
Welcome!
Go straight to tour PDFs, prices and schedule ↓
Ride like you never did before. The highest mountains of Europe, endless wine fields, steppe's, the shores of the Black Sea and an overkill of twisty roads and breathtaking dirt tracks. Georgia a heaven for any motorcyclist. Add that up with the rich history & culture and a people that take hospitality to the next level and it may result in you never wanting to leave this place again.
What's Included?
Our tours include everything, meaning we provide the motorcycles, unlimited food & drinks, fuel, cab fares, airport transfers and your stay hotels/guesthouses. The only thing excluded are the airplane tickets. During our tours we spent the night mostly at small family owned hotels. Stories from local people, homegrown food, home brewed wine and chacha and delicious local dishes will make you fully understand why Georgian hospitality is as famous as it is. There is no better place to experience these things than being at a family place.

MOST OUR TOURS ARE PLANNED AT THE SPECIFIC WISHES OF OUR GUESTS. LET US KNOW YOUR TIME FRAME AND WE WILL ORGANIZE THE TOUR OF YOUR CHOICE AT THE DATES YOUR PREFER.
Want to see more and read some client feedback?
Tour impressions →
Bikes
We offer three models of motorcycles, depending on your taste and budget
Motorcycle models →
MOTOTRAVEL TOURS
Rightfully so, the most popular among our tours. The best twisty tarmac roads that Georgia has to offer. The off-roading during these tours is optional and can consist of about 30% of the total riding.
We ride through the most diverse natural sceneries: wine fields, the highest alpine zones of the Caucasian mountain range, the valleys of Vardzia and a lot more. In addition, there is a lot of interaction with locals during this tour. In Georgia this interaction often times goes hand in hand with the best food and drinks, which mostly comes directly from the gardens of our generous hosts. All in all the best chance to get to know Georgia, its people and the incomparable hospitality in its most authentic yet comfortable way.
experience the tour →
ADVENTURE TOUR
This tour has a strong focus on mountains and Enduro style riding. The Adventure tour goes covers a lot of the terrain in the Northern Caucasus Mountains range. There are quite some hard off-roads during this tour. Therefore, substantial off road experience is required.
Georgia is ''the balcony of Europe''. With mountain peaks higher than any other mountain range in Europe. Find yourself riding between these mountains without encountering anybody else, these long stretches of mountain tracks are intense, filled with awe-inspiring natural sights and oh so rewarding.
experience the tour →
LUXURY TOUR
Windy forest roads, the 5000 Meter high Mt. Kazbegi and wine. The tour is mostly set on asphalt. However, we left enough space for off-roading during this tour. It is up to you to take it!
The best riding of the Caucasus combined with stays at the most comfortable hotels. A fresh dive in a hotel pool overlooking the wine valleys and snowy mountain tops after a beautiful ride. Take a spa in the famous Rooms Hotel in Kazbegi. Comfort and the best food and wines combined with a road trip incomparable to any other.
experience the tour →
PDFs With Tour Descriptions
Pricelist (per person, BMW F650 GS bikes)
Persons
7 Day Tour
6 Day Luxury Tour
7 Day Adventure & Off-road tour: Experienced riders Only
9 Day Tour
12 Day Tour
3
€1,606
€2,620
€1,980
€2,083
€2,623
4
€1,502
€2,550
€1,870
€1,920
€2,407
5
€1,450
€2,480
€1,813
€1,807
€2,299
6
€1,450
€2,480
€1,813
€1,807
€2,299
7
€1,365
€2,294
€1,750
€1,716
€2,217
8
€1,365
€2,294
€1,750
€1,716
€2,217
Additional Charge for Other Bike Models
Honda CRF1000 AS
€385
€390
€475
€495
€660
Suzuki V Strom 650 XTA (ADV)
€105
€150
€200
€135
€180
Tour Schedule
Departure
Tour Type
Availability
General Info
Motorcycle gear: We recommend to bring a full motorcycles outfit. Georgia knows many different climates in which temperatures can vary a lot. At our garage we have helmets, motorcycle jackets and gloves ready that can be taken on a first come first serve basis.

24/7 service: You can pick up the rented motorcycle at any time of your liking. Share your preference with us and we will be sure to be ready and waiting for you.

Pre-Payments: For rental reservations we require a pre-payment of 10%, for guided it is 20% of the total due. As soon the amount is transferred, the motorcycle(s) are officially booked. Pre-payments can be done by regular bank transfers (EU and Georgian bank accounts available) or through PayPal.

Payments: Payments can be done at our garage, either with cash or with credit card. There is a 2% commission for credit card payments, this is the commission we pay to our bank for credit card transfers.

Luggage: All our motorcycles are equipped with cases. Also we have strap down ropes and elastics at the garage to lend, also on a first come first serve basis. USB chargers. All motorcycles are equipped with USB chargers to plug in your navigation device. Storage. Feel free to leave any belongings (suitcases etc.) at our garage for the time you are on the road.

Route-planning: We are very happy to help you with planning a nice route, we know the best and most quiet roads in the country that are perfect for riding. Keep in mind that Google Maps and similar services can be a bit deceiving, some roads that look fine can turn out to be very though.

Minimum age: Riders must be at least 21 years of age due to our insurance policy. In addition, riders must have been in the possession of their motorcycle driving license for at least three years.